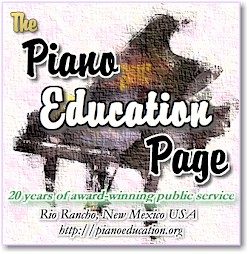 The Piano Education Page is a non-profit, non-commercial site, operated as a public service since 1995.
Last Upgraded: January 13, 2021
---
PEP Program Notes
Click or below
to expand or contract
(Program Notes require scripts on)
Welcome to the Piano Education Page
The Piano Education Page (PEP), founded in 1995, is a non-commercial, unbiased, one-stop resource for teachers, students, parents of students, and fans of the piano. It has over 1000 pages of family-friendly information, upgraded regularly. Our newest Featured Upgrades are below, or you can use the PEP Program Notes, below left and in the upper left part of the page anywhere else on the site, to read anything or everything. For help with navigating and using PEP to best advantage, see Getting the Most From The Piano Education Page. Thanks for visiting!
New article for teachers, Teaching Students Who Play by Ear
New article for teachers, parents and students, Making the Most of Piano Competition Judging
New for kids, Meet the Composer interview with Franz Liszt

---
Listening Focus
Ornamentation, in music
(MIDI sequence by

Jeruen E. Dery

)
---
Enjoy your visit and come back soon!